Introducing Kidivo's Unicorn Zipper Pouch – the perfect solution for organizing your essential items in style. Made from durable PVC plastic material, this pouch is both lightweight and waterproof, making it ideal for use in any setting – from homes and schools to offices and libraries.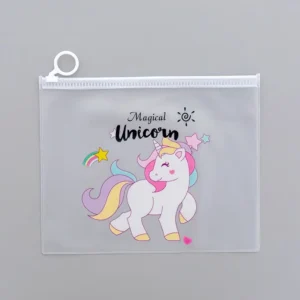 Measuring 21 x 17 x 1cm and weighing just 45g, this pouch is the perfect size for carrying all of your important documents, stationery items, cosmetics, and more. Plus, with three beautiful colors to choose from, you're sure to find a design that suits your personal style.
Featuring a smooth zipper and easy-to-fold design, this pouch is both functional and practical. Keep your pencils, scales, sharpeners, erasers, and other essentials organized and easily accessible – no matter where you are.
Whether you're heading to class, commuting to work, or embarking on a journey, Kidivo's Unicorn Zipper Pouch is the perfect companion. So why wait? Add a touch of magic to your daily routine and stay organized in style with Kidivo's Unicorn Zipper Pouch