Kidivo Talking Flash Cards are a fun and educational way for kids to learn English words and improve their reading and writing skills. These electronic interactive toys feature 112 colorful double-sided cards with 224 words, all housed in a cute body with standard pronunciation. The machine will tell the words, and animals will make noises, allowing babies to understand words deeply through visual and auditory sensory methods to explore the unknown of the world. This learning device is perfect for 3 4 5-year-old boys and girls and is a great way to introduce or reinforce sight words.
This easy-to-use device is perfect for parents, teachers, and home-schoolers who want to turn playtime into learning time. The talking feature helps to reinforce correct pronunciation and improve vocabulary, making it a creative way to teach toddlers. The device is highly recommended for teacher supplies, classroom games, preschool, pre-kindergarten, and home teaching.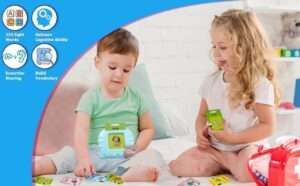 Kidivo Talking Flash Cards have only three buttons to control: one for volume, one for power on, and one for repeating. This makes it easy for kids to use by themselves. Simply insert the learning flash card, press the button, and the card player will read the word clearly and loudly. It's suitable for toddlers, preschool kids, home-educational kids, and more.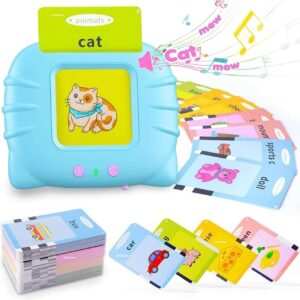 These colorful illustrations and fun sounds will provide your little one with hours of fun exploration and learning while developing their cognitive skills, memory skills, and early reading skills. The simple but fun educational toys are perfect for preschoolers aged 3 4 5 6 years.
Kidivo Talking Flash Cards make an excellent preschool learning toy for homeschooling, day care, Montessori/playgroup, or kindergarten. They also make perfect gifts for back-to-school, birthdays, Christmas, children's parties, and any occasion. Give your child a head start with these early educational toys that are both fun and effective!